EVERY DEVOTIONAL WAS SENT OUT BY TEXT MESSAGE BY ANTHONY FADELLE. HE STARTED BY SENDING THEM TO HIS BIBLE STUDY GROUP AND GOD ALLOWED THEM TO START REACHING HUNDREDS MORE BY FORWARDING TO MORE AND MORE OF GOD'S BELOVED.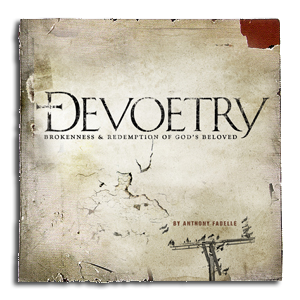 Before you open this book, I want to share with you a few thoughts that will prepare your heart for an encounter with God that may be a little different. In the book of Ephesians, the second chapter, verse 10, the apostle Paul wrote this; "For we are God's "workmanship" created in Christ Jesus for good works"
In the original language the word "workmanship" can be translated as poetry. "For we are God's "poetry" created in Christ Jesus for good works." Poetry is the attempt to cap- ture beauty, truth, and deeply felt emotions, with the written word. Poetry brings that which is elusive…joy, sorrow, a smile or a tear, into a place where we can be each one unique. In Exodus 19:5, God calls us His "treasured possession." We are of great value to God. We are loved passionately by Him.
My friend Anthony has penned these pages… from his heart to yours. As God has written on the pages of his life, he felt that these written words were worth sharing with you. He was right. So find a quiet spot and spend a few moments alone. Get away from the noise of living life and allow this poetry to wash over you…meditate on the words. Dig deep into each word, each phrase…and then listen… listen as our "Papa" begins to write upon your heart as well… for we are all an ongoing work of beauty…written by the hand of the living God.
— Selah.